On March 28, I was able to say that I had been on Blogger and writing a blog for exactly
one year
. So I invite you all to my Blogiversary party! What better way to spend a Saturday night, huh? (Btw, feel free to give me virtual presents!)
These are the highlights of my first year as a blogger:
My first real post (a day after my introductory post)
My brother and hockey - the end of an era
Aliyah angst
On Yom Hazikaron and Achdut
Revolution!
The gushing of an English major
Finals Poem #1
The Delivery Boy - this posts feels freakishly like foreshadowing. *shudders*
Fiftieth post! And first day on the job: fun with phones
Internship fun
Random rainstorms
HarryPotterHarryPotter! Yeah!
Um, no one has to read this. But I felt weird not including it. Letter to Dr. Schwebel.
Wuat??? What kind of letter is this???
Being good is annoying
Writer's angst
Erachet the Philosopher
Mind the gap
This sounds like it could be a comic strip
Twenty-first birthday
Tales of Cicero the Goldfish
Tales of Cicero the Goldfish: The Sequel
On being afraid
Pride and Prejudice: life lessons
Nighttime and Virginia Woolf
On Perseverence
On having a hero complex
THE MOST IMPORTANT POST OF ALL
Just one of my many adventures with SJ
On writing papers
On prayer
The Not Much syndrome
An adventure in the evil stairwell by the seventh floor
Ezzie made me put this in. The writing is really awful.
The Seven Things meme
Blogging: Shakespeare style
How I learned to call out in class
Remember when Blogger started the little Blogger icons?
On facing yourself to someone else
Semper fi!
Finals Poem #2
On growing up

Devil Squirrel!
This is for the comments, aka, how Erachet beats G in battle
On what

really

goes on in the mind of a student
This should be a movie
Sleeping meme
Art part one
Triumphs in driving
Curiously, I have not had a good post in a while. So I bring you a poem about it.
And, for the main event....
*THROWS DALE AND THOMAS POPCORN AT EVERYONE (because I have too much)*
And for the party activity, we have a...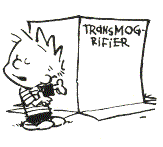 transmogrifier! This is a cardboard box from Calvin and Hobbes which can turn you into anything you want to be! Anyone want to have a go?
I'll go first. I think I'll transmogrify into...a chipmunk who is good at charades!
Also, since I wrote this so late last night, I didn't really get to properly write anything. Thanks to everyone who I became friends with over the course of this year (beginning last march), and especially thanks to Serach and Ezzie (and Bana) for having me over a bunch of times and being awesome (and for living near the pretzel place). This year has been
so
much fun (with its serious moments) and I can't wait to see what adventures the next one brings!
Also, thanks to the Stern play last year and to the absolutely
awful
review of it in the Commentator because without that (and Chana's post about it), I'd never have been inspired to start blogging!
So yeah, thanks to all my amazing friends and...
LOOK! A SHARK!
(party to be continued...)